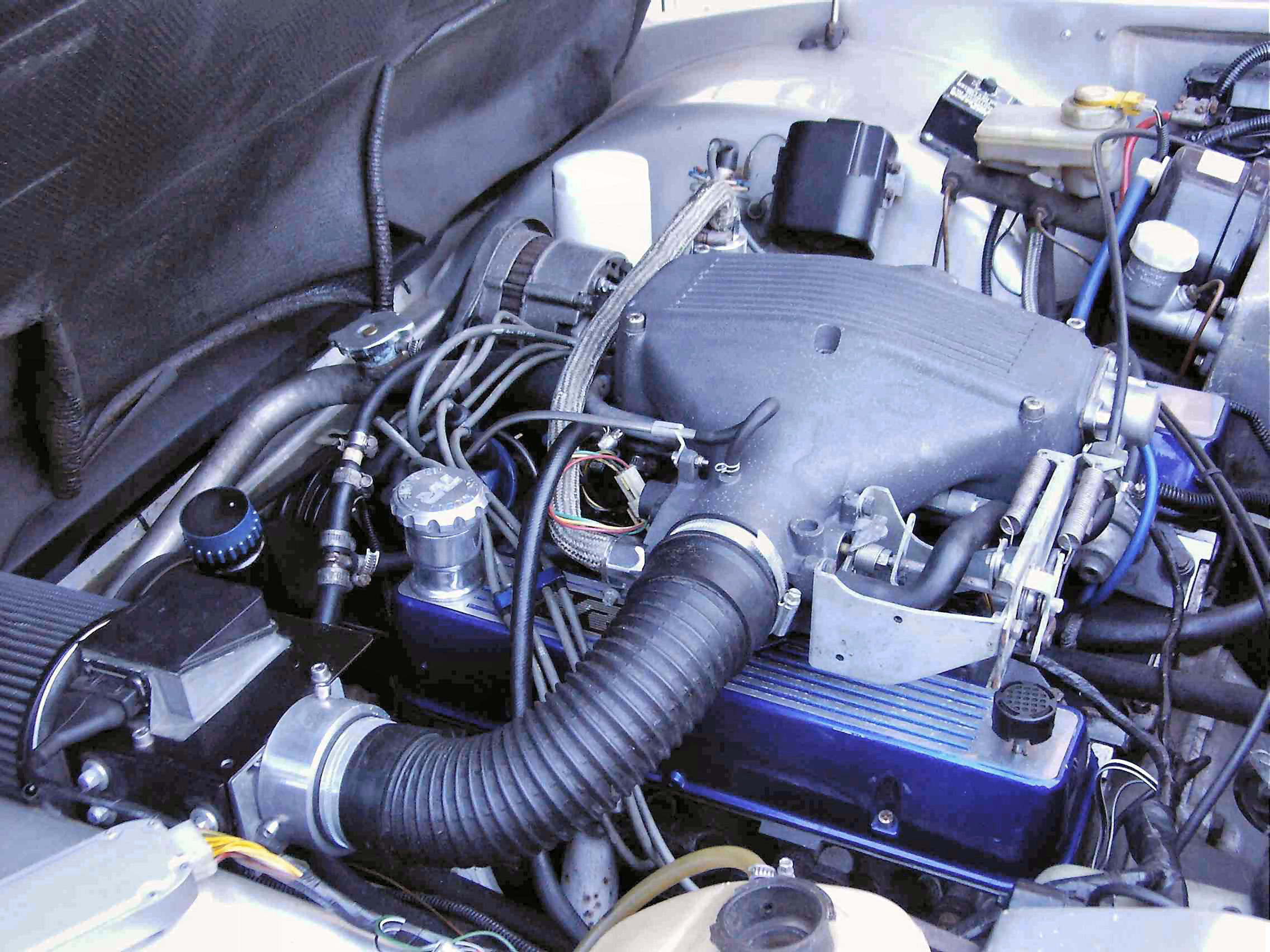 Engine bay of the 390SE
The previous owner was a bit of a bling-freak; note the painted and polished rocker covers, polished oil filler cap and extension, flame trap, HT lead clamps, silicon hoses... I've added stainless plenum bolts and that's about it! The distributor vacuum advance pipe is made from an offcut of stainless tubing scrounged from the plant that made Learjet fuel systems. Note the large-bore airflow meter from a Jaguar: it's mounted to the original TVR bracket by an adapter plate and the outlet is reduced to the bore of the standard air hose by an alloy adapter that I turned down from 100mm solid bar. The adapter polishes up quite well so I guess that counts as bling...
One thing that probably doesn't count as bling are the autographs. The great thing about small-volume production cars is that they tend to have a lot of personal input from the lads and ladies who build them. Aston Martin, apparently, used to have a little plate affixed to their engines with the name of the fitter who'd assembled it. TVRs are renowned for their graffiti - doodles, bad language and football team references, for example. Or, in the case of my car, the autographs of the 3 fellas who laid-up the fibreglass bodyshell, way back in 1987 (not that long ago for some of us!). Not that my car's unique in that respect of course... but it probably is in another. The TVR Wedges were styled by Oliver Winterbottom, who'd not long since finished designing the 1970's Elite and Eclat for Lotus, when TVR got him onboard for their next range of cars. History tells us that TVR were a few years too late onto the 'wedge' bandwagon and some people would argue that Mr. W. didn't get all the proportions quite as 'right' on the TVRs as on the Lotuses (Loti?). That aside, at that point he was only part-way through his career in car design (in fact he later wrote a book about it!). By the mid-teens of the 21st Century he was retired, and was sometimes prevailed upon to attend car club meetings to give entertaining talks about his time at Lotus, Jaguar and TVR. That's how I came to meet him, at a TVR gathering near Stratford in 2015/16. I twisted his arm, and he gave me his autograph. Well not me personally, but my car. Strictly speaking, by the time the original Tasmin had morphed into the 390SE, Oliver Winterbottom was long-gone from TVR and engine upgrades and body restyles were carried out under Peter Wheeler's direction... but Mr. W. started it. So on the inside of my glovebox lid is his signature, together with the words "Glad you enjoy it - I did!". Even in the gloom of the glovebox it's starting to fade and sadly the man himself is no longer with us so here's a photo to capture it for posterity...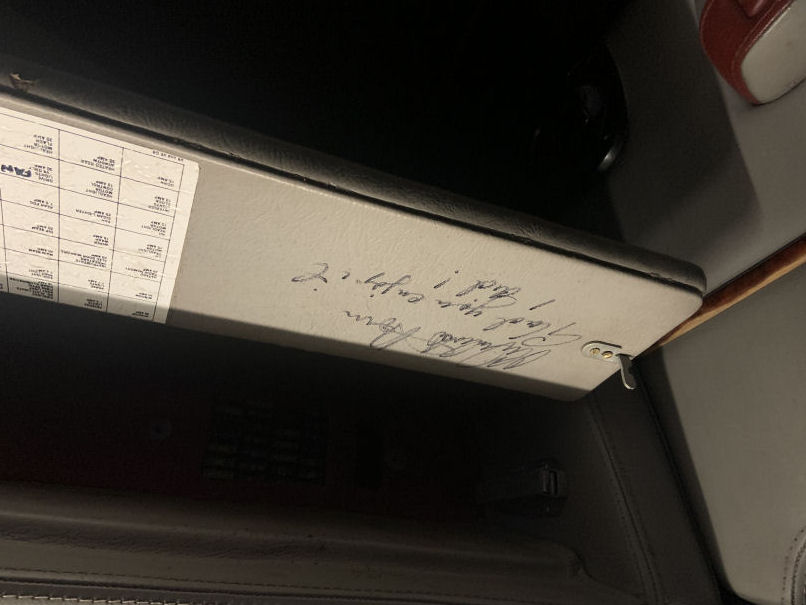 A selection of Wedge delights, then:
...and how to fix the injection!
Renault indicators, and other lighting matters
Chassis sill rail rot - don't despair!
Starter Solenoid Sticking? Read this!
Repairing a leaky fuel tank...
Front suspension, brakes and steering
Differential, rear suspension and drivetrain
Cruisin'... (no, not that sort!)