Wedgeneering
Wedgeneering...? It could be defined as the art of maintaining and - perhaps - improving or modifying where appropriate (but please, not in the boy racer sense!) the TVR and Lotus 'wedges', without recourse to 'experts' or dealers. Wedge engineering, if you will. Money you save by doing jobs yourself will be better spent on petrol - and best of all, the information here is FREE! No need to buy particular publications or rely on some so-called or self-professed 'specialist'. These cars hark back to an era before computers and factory-sealed assemblies. They were built by real people, not production-line robots; chaps who wore flat caps and drank beer, women who smoked and went to bingo on Friday nights. If they could build them, you can repair and maintain them.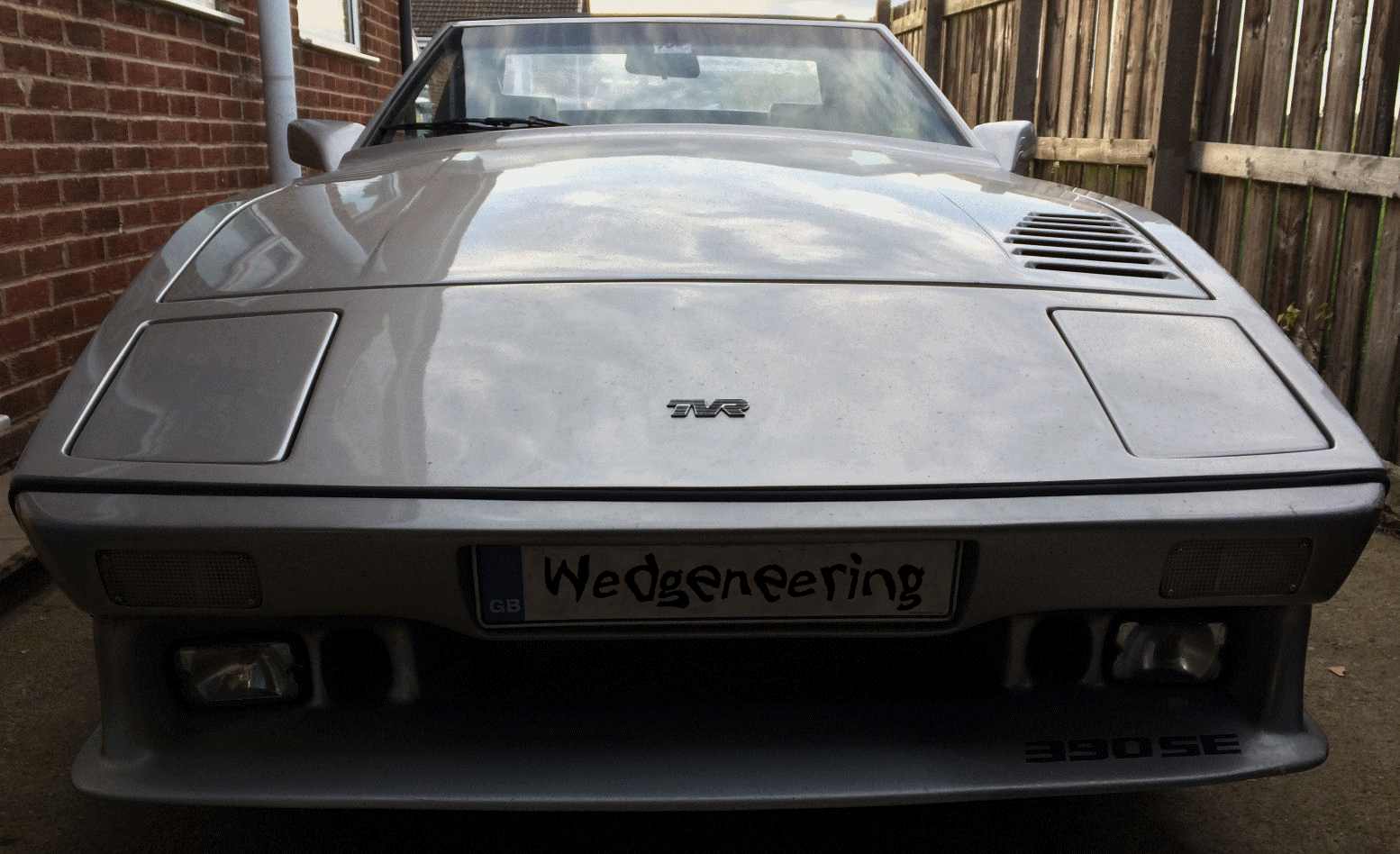 When many people talk of TVR or Lotus, the term 'kit car' gets bandied about. It's true: both companies did in their earlier years supply cars in kit form, but those days are a long time in the past (thanks to the EEC, a 1970s British government and their tax rules) so whilst both companies sourced components from mainstream makers right into the 21st Century, it's unfair to label the vast majority of their products as kit cars. They are however simple cars, a lot easier to work on than many modern vehicles and certainly easier than some people would have you believe. Whatever aspect of the car needs attention, you can bet that someone has 'been there' before you and probably found a solution to most issues. Most of the technical data you need for the TVR can be found in the workshop manuals for the Ford Cortina Mk4/5, Granada, Capri, the Rover SD1, the Triumph TR7 and the Jaguar XJ6 - and lots of that information has found its way onto the internet too. The oily bits of the Lotus are a bit more specialised but even so the factory manual is easily found. You'll also see references to the DeLorean DMC-12 on here; a mate of mine has a couple of them (as well as a Lotus Elite and Turbo Esprit) and they suffer from similar maladies to the cars that are the main feature of this site, so as and when we resolve issues that might be of interest, I'll post the details up hereabouts, if only for entertainment :D
As well as the Wedges, this site also has a couple of pages given over to Honda's great 'Pan European' bikes - mostly the ST1300 as I owned an earlier 1100 briefly and apart from one service I didn't keep it long enough to get my hands dirty. Similar to the TVR wedge cars though, they're a bike that polarises opinions and you either 'get' them or you don't!
I hope you find something of use; if not then email me using

and I'll see if I can help out!
Miscellaneous (Auto security tales, DeLorean stereos, YPVS controllers...) - high text content!
Site Designed and Copyright IRS - - - Hosted by Matt at eeek.org.uk - - - Last Update 091223
Material used on here from other sources remains the copyright of the original owner and whilst permission to reproduce it may not have been sought, Wedgeneering thanks such originators and promises to buy them a pint sometime.
This page has been visited

times since hitcounter last reset - most of the traffic to this site is from direct links to individual pages, however. Counter courtesy of CJ :o)
Note to prospective advertisers: I am not interested in including adverts for any products or services on my site, sorry! You might be out to make money, I'm not.